Welcome to KeyRealSeo's Case Studies
SEO — is not tough. You just need to make right steps in the right directions.
It is a website dedicated to procuring a variety of certificates for organisations in the CIS.
work needed to be done from scratch
absolute zero level of authority
The mission was clear-cut but ambitious for the website. Competing against behemoth aggregator sites, we aimed to increase the site's authority and visibility in search engines, given its specialised subject matter.
What SEO works Have We Provided
optimised content
embedded keywords
crafted meta-tags
created internal linking strategy
created and developed blog section
At first we began with Content Optimization – we dove headfirst into fine-tuning the site's existing content, embedding strategic keywords, and meticulously crafting meta tags.
Concurrently, we embedded a robust internal linking strategy to create a topical map, ensuring we covered every corner of the site's niche. After solidifying the services pages, we expanded into a blog section, consistently adding valuable content to reinforce the site's topical authority.
What SEO Results Have Wwe Got?
Despite the "David-versus-Goliath setup" against large competitors, our precise, dedicated efforts began bearing fruit within just a few months. It's not just about driving traffic—it's about driving the right traffic. Imagine how we can do the same for you!
Initial Stature

: Barely making a dent in organic search when the client came to us in May 2019.

Current Status

: Fast forward to April 2022—monthly traffic surged to 800 organic visitors, and we're not stopping there!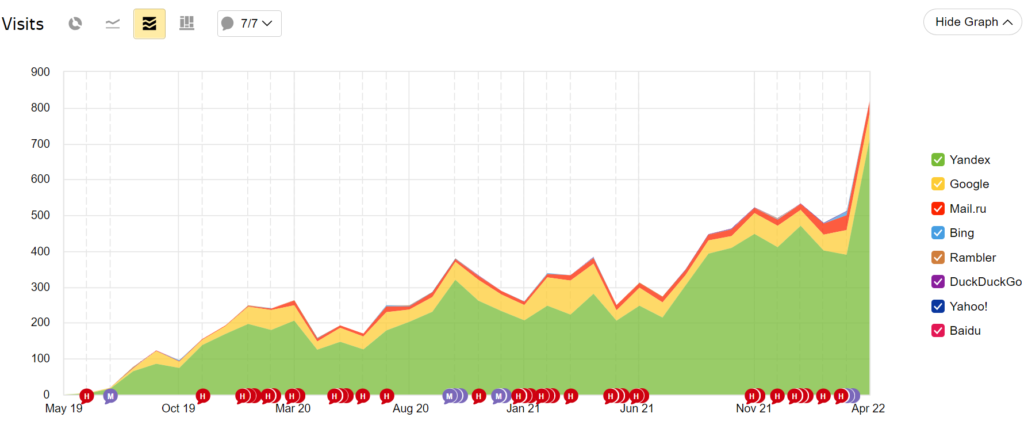 Do You Want The Same Results or Even Better?